Martial arts? Why should you know about it? Why do you need to learn martial arts? These are some of the questions which can come up in the mind before starting to learn martial arts. People of a young age don't prefer learning martial arts but young children should know about it. If you have a child at home do tell him about martial arts. Here are some of the reasons which will clear you that why should you know about martial arts.
You will get more active
Children should learn and do martial arts in young age to become more active and keep on moving. This is a physical activity which makes a person active and strong. Children and young people also are just busy in playing indoor games like Xbox. This thing makes them sit all day and in result, they increase their weight and become obese not only they increase their weight they also become lazy and mentally tired. So if you start doing martial arts, it will help you and will be better for you in all the ways. Martial arts have many of the benefits, but talking about the fitness to become a true martial artist means to become a fit and healthy person.
Children will learn to take hits
In martial arts children will get to learn what type of hit it is whether that is literal blow or disappointment. It is a part of life that all of us take hits which can be of any type. Key is that to learn how conveniently to handle that hit and reverse back.
They will gain confidence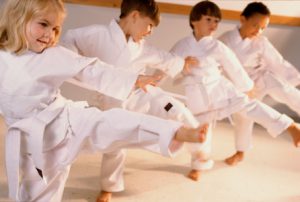 Martial art schools teach children that there is no tough guy in this world, no person above then you. Each of the martial artists learns this sense of confidence.
They will connect their body and mind
Listening to your body also seeing your thoughts and to have awareness of your emotional Idea. Martial artists learn to see, listen, and feel the things both externally and internally.
They will learn to struggle for their resolution
Martial arts training does not teach you to fight and fight with everyone on every condition, the best thing which martial artists learn through all the training is to stay calm and to respond without the reaction in martial arts.
They will learn to Breathe
Many things can be learned from the training of martial arts but above all, they learn how to breathe. Success of how we move our body is more important than anything else. In the training your children will not only learn to stay calm and relax under pressure, in fact, they will also learn to breathe in stress. This is a skill which can save the life of your children. Do tell your children to learn about the martial arts.